Mobile Websites, QR Codes, and Advertising Help Your Business Grow

To connect with today's consumers you need a more comprehensive marketing approach than ever before. This is because people are interacting with brands in more and varied ways than they did in the past. For instance, while TV commercials were once seen as the ultimate marketing weapon, their power is now diluted as consumers choose to get their entertainment from the internet and other sources. This doesn't mean you should abandon traditional advertising, but you have to combine it with new technologies if you hope to grow your audience and subsequently your business.
This merging of mediums is what makes the grouping of advertising, QR Codes, and mobile responsive websites so effective, but before getting into exactly how they help your business, let's first discuss how they work…
What are QR Codes?
QR Codes have become relatively mainstream, but if you're still unsure of how they work, don't worry, the process is simple. QR Codes are symbols (usually black and white and they resemble barcodes) that appear on things like packaging, signs, business, cards, and more. Business owners place the codes on these various objects in the hopes consumers will "scan" them with their smartphone to access other information about a product or service.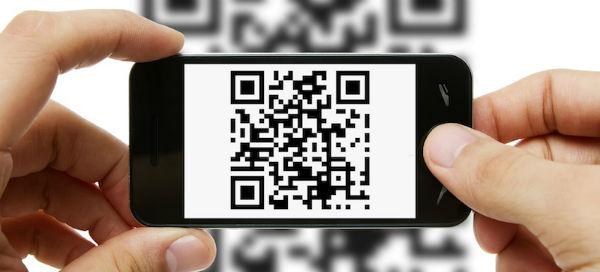 What kinds of information do users get? Well, it tends to vary somewhat, and frankly, many business owners/advertisers are missing the mark on QR Code execution. Traditionally, QR Codes direct a person to the business' website or deliver a coupon, which is great as long as what's presented offers customers real value (i.e. is worth their time), but all too often consumers are given non-mobile optimized websites and boring info that leaves them shaking their heads and wondering 'why did I bother?'
Using QR Codes the Right Way
Despite their misuse, QR Codes have awesome potential if you implement them correctly, and some of the most basic ways to do this are:
• Link to a responsive mobile website – Most smartphone users are busy and on-the-move and aren't going to waste time with a site that is cluttered, too small to read, or otherwise difficult to navigate. Linking to a responsive website is a useful way to keep potential customers engaged, since it always provides a great user-experience (more on responsive websites below).
• Tell folks why they should scan - Unfortunately, because consumers have had poor results with QR Codes (reward didn't measure up to the effort), many are reluctant to keep using the technology. However, you can convince people it's worth it by telling them what they're going to get (e.g. 'scan here for a coupon,' 'scan for details and reviews of our product,' etc.) By being straightforward, folks don't feel like their gambling with their time.
• Offer value - Whatever content you choose to put on your QR Code landing page, make sure it gives people something they really want. Typically, QR Code users are out-and-about and not particularly interested in perusing your entire website or Facebook profile, so give them something helpful at that particular moment (quick information, answer product questions, deals, etc.)
• Include instructions - There are still plenty of people who don't understand how to use QR Codes or how to download a reader app onto their smartphones. You can dramatically increase the number of customers who scan your code by including simple instructions near the printed code.
Why a Responsive Website?
QR Codes work best when linked to a mobile webpage and, as mentioned, this is because the page layout and content of a mobile site is better suited to the smaller screens found on smartphones (the device typically used for scanning QR Codes). Naturally, consumers are more likely to stay involved with your page if it is easy to read and navigate.
But, why use a responsive website over a dedicated mobile site? Although dedicated mobile sites have their place, for most small business owners, responsive websites provide much more benefit. Essentially, they are a static and mobile site all rolled into one, which makes for easier maintenance, lower costs, and the assurance your site will always work optimally, no matter what device a person is using.
How do Responsive Websites Work?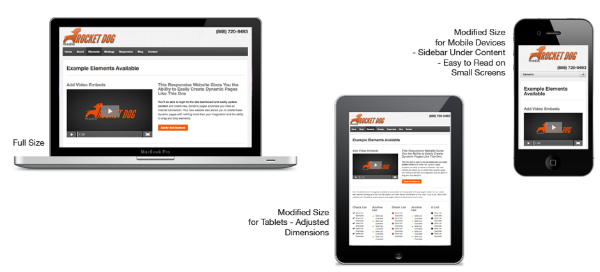 Responsive websites use a fairly new coding technology that makes it possible for a site to ask "questions" about the viewing device to determine the ideal way to render. So, it figures out the size of the screen, orientation, resolution, and more before appearing. Through this method (it happens instantaneously) the webpage can constantly adjust itself to provide the optimal user-experience, and this change happens not only between devices but even as people resize their windows.
Advertisement + QR Code + Responsive Mobile Website = Growth

When used individually, all three strategies (QR Codes, advertisements, and responsive websites) have the potential to boost your business. However, when combined, you can create a marketing trifecta that reaches consumers on multiple levels and generates enormous opportunities for growth.
Here's how the process works:
Step1: Sees ad
Traditional print ads have stood the test of time because they work. That said, in today's ad-saturated environment, it can be harder and harder to get your message noticed, which is why we prefer indoor ads, because they are eye-catching and reach people when they face few other distractions. Even if the consumer only sees your indoor ad and doesn't scan your QR Code, you've still made a quality impression, which is a feat for many businesses.
Step 2: Scans your QR Code
After seeing your ad, consumers can engage with your brand on another level by scanning your QR Code. Even if they don't have time to interact with your page at that moment, the data is stored in their phone for later retrieval.
Step 3: Explores your mobile landing page
Ideally your QR Code should send users to a mobile landing page within your responsive website. From there, you have another chance to push users down the road to conversion by giving them something of value.
Step 4: Takes action
If your strategy is effective and your call-to-action clear, consumers should take some type of action. Ideally this would be making a purchase, but it could also include giving their contact info, signing up for your newsletter, or sharing your page on their social networks.
Once folks have reached this level of interaction there's a good chance they'll return to your page, and if they've shared your brand socially (liked, +1′d, retweeted), your business can connect with individuals who never laid eyes on your original print ad (that's some good reach!) The good news is, if you use responsive design, no matter where your links spread and how people access your page (desktop or mobile), you know it will look and behave wonderfully.
Basically, the combination of ads, QR Codes, and responsive websites make it possible for you to meld two advertising worlds: online and physical. That way, no matter how a person prefers to interact with a business, you can accommodate. And by having increased options you are creating more opportunities for exposure, engagement, and sharing (all necessary for growth). Not to mention, this strategy will give you a solid mobile presence, which will keep you in touch with the ever expanding and powerful mobile audience.